ABOUT HENRY
Find out a little bit more about the owner and photographer behind Aevitas Weddings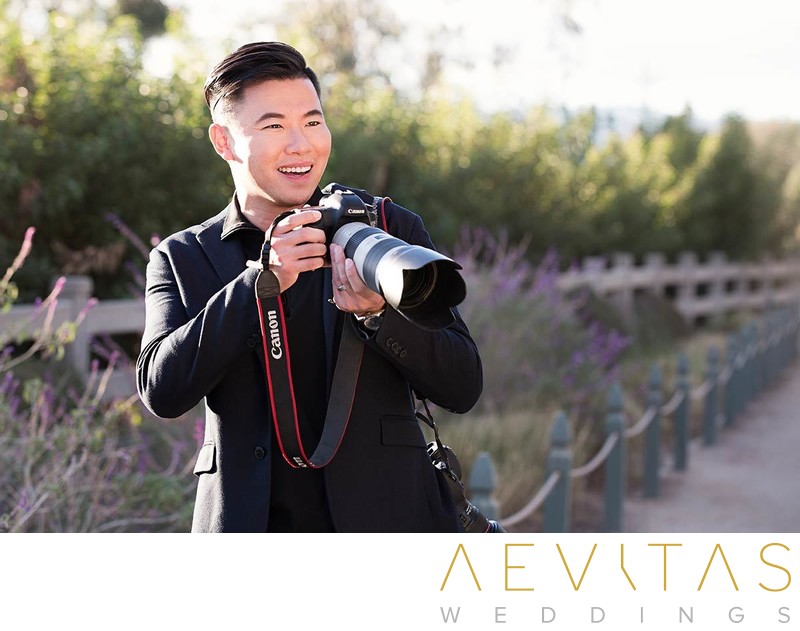 Henry Chen, owner and photographer of Aevitas Weddings
Questions and answers from Here Come The Guide:
What 3 words best describe your work?
Artistic, compelling, dynamic.
Tell us about your company name.
"Aevitas" translates from Latin as "the time of existence" or "immortality" and I liked how that resonated with marriage and the relationship between my clients. I also wanted my company name to have a worldly feel to it, which is how I ended up with Aevitas Weddings.
Why should someone hire you?
I'm not only incredibly passionate about my wedding photography work, offering the best service possible and creating the highest quality images for my clients, but also getting to know them and their story.
From the moment they contact me, I take the time to really understand their relationship and what is important to them, then translate this into the images I capture on their special day.
What are the common misconceptions about your services?
I think in general there is a misconception that wedding photographers just switch the camera on and it's a simple click of the shutter to come away with captivating and emotional images. But in reality it takes careful organization, adequate time allocation and raw emotions from our couples for photographers to capture all those beautiful details, creative portraits, and candid moments.
What drew you to this field/how did you get started?
When I got started in wedding photography in the Summer of 2007, I had no experience in the field, but there was something about how clients reacted to images and what they meant to them that I thought was really special.
I wanted to do something meaningful, while also being able to express myself creatively as a storyteller and satisfy my curiosity in cultural and religious differences, and I think wedding photography gave me the opportunity in all of those areas.
What are some sources of inspiration or influences on your work?
As strange is it might sound, I think that my obsession with basketball and watching the NBA has been a huge influence on my work.
I love all the action and drama, the decisive moments that happen in a split second, and the expressions on the players and coaches faces, and a lot of that translates into what I love about wedding photography! Travel also inspires my work as it constantly offers new settings, cultures, and people to capture.
Tell us about a favorite, unusual or very interesting moment at a wedding:
In December 2010 I flew out to Rajasthan for my first multi-day wedding in India which was a whirlwind of new challenges, inspirational moments, and cultural awareness.
By the final day I was physically exhausted and a little run down, but while preparing for the Baraat ceremony (when the groom is greeted by the bride's family), I turned around to see an elephant standing right in front of me, ready to escort the groom in.
It was such an unexpected situation to be in, and combined with the sights, sounds, and smells that infused the street around me, it was definitely one of those wedding photography moments I'll never forget.
What makes a wedding memorable for you?
For me it's not so much about the location of the wedding or the lavishness of the details that have been selected, but it's about the one-of-a-kind moments that happen between the couple and their family and friends.
I love when couples wear their emotions on their sleeves and being a part of those unplanned, candid moments that make each and every wedding unique.
What have weddings taught you?
So many things! But if I had to choose just one, it would be how diverse and beautiful the world really is. As a wedding photographer, I've been exposed to so many different ways that love can be expressed, drawing on unique cultural and customs, as well as personal rituals and family legacies.
It's a privilege to bear witness to such diversity in not only Southern California, but also all around the world.
What is the best advice you give a couple when planning their wedding?
I think the best advice would be to never underestimate just how much time it can take to plan a wedding. So start early, hire a professional wedding coordinator, and (most importantly) when things get overwhelming, don't forget why you are getting married and having a wedding in the first place.
If you could have any superpower on the job, what would it be?
To create more time! Even during the most carefully planned weddings that run according to schedule, I always wish for more time to capture each and every moment.
I would also sometimes love to be able to telepathically communicate with others throughout the day, especially when it comes to wearing their emotions on their sleeve.
What are 3 words that describe your personality?
Passionate, dependable, and personable.
What's your favorite book/movie/work of art?
"The Count of Monte Cristo" (the 2002 movie re-make of the Alexander Dumas novel). Even though my wife and I have never watched it together, there are so many aspects that we connect on and have little insider jokes about.
What's your favorite quote?
"I find that the harder I work, the more luck I seem to have." —Thomas Jefferson. It's just one of those quotes that I heard when I was young and has always resonated with me.
What's your favorite marriage advice?
Always think about what you can do for the other person and maintain the mindset that you are the lucky one in the relationship.
Extracurricular activities:
Travel photography, backpacking in the great outdoors, and continuing my online education efforts to help other wedding photographers establish their own businesses.
If you weren't in your current profession, what would you do instead?
Ideally something in travel, whether that be a travel photographer or tour guide, or inspiring young minds in business, entrepreneurship and learning about financial responsibilities.
What's your favorite way to wind down after a hard day?
As a wedding photographer my working day usually ends at around midnight or 1AM, and there's nothing better than getting a Double-double at In-N-Out Burger and catching up on the latest LA Clippers basketball game on DVR.
Tell us about your pets, if you have any.
Unfortunately we don't have any, much to my wife's disappointment.
What are some of your favorite places to eat—either everyday spots or special occasion splurges?
I love going out for Korean BBQ or just a casual In-N-Out Burger. But if it's a special occasion, then I put complete trust in my wife's decision, who is the expert foodie in the relationship!
What would you like to be doing in 5 years' time?
I would still love to be photographing weddings, but also leading a team of associate photographers and continuing to teach and inspire others to pursue their wedding photography career.
I would also love to do work in the developing world inspiring young minds in entrepreneurship. Lastly and most importantly, I'd like to be raising a family with my wife.